Thanksgiving has come and gone and in its wake it has left bevy of delicousness and savory leftovers. Just looking at it is enough to make you want to nap. There is nothing better than a Triptophan induced coma. But that's like the worst thing you can do. Personally, I love to eat. There are few people who actually don't, but for all of us who do, its easy for our eyes to get bigger than our stomachs. But is that third plate of turkey and stuffing really worth it?
Here is where the importance of a thinspiration comes into play. Your thinspiration can be anything that motivates you to work out regularly, not overeat, or to get the body of your dreams. You don't have to be a certain weight to have thinspirations.
What can be a thinspiration you ask? Why it can be anything you want that helps you get the body what you want. Some Examples.
THE BOOTY
Let's take the opposite sex for example. Now I'm not shallow, I fully value the importance of inner beauty, but like sexy Gerard Butler says in The Ugly Truth, no one falls in love with your personality at first sight. If you're not attracted to someone, you're probably not going to give them a chance to wow you with their personality.
THE LOOT
Ohhhh the clothesssssss. You can wear whatever you want and it'll look good on you. No hunting for special sizes. You know you want it. But not that skinny. I have to much boob to be that skinny, I'd look disgusting. So I'll take those clothes, but as far as ideal body types goes, I'll take Tyra.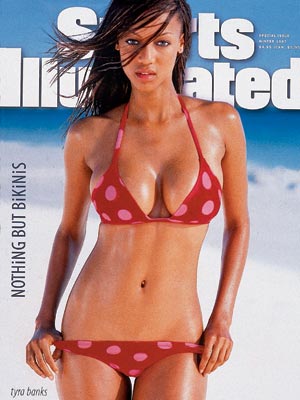 THE LIFE
I know you don't want to be the person dead at 28. Of a heart attack. You're quality of life can only go up if you work out and get your act right. What if you wanna go ride a roller coaster but you can't? That has to suck.
My girl Kendall and I were in the mall the other day just being crazy and we both agreed that Precious would be our thinspiration for the 2010. That's just unacceptable. So I took the liberty to help everyone out and make these Precious stickers. Just print them out on sticky paper.
Don't feel like walking the treadmill?
Put a sticker on the panel.
Going in for that piece of pie?
Stick one on the pie pan.
Dying for some icecream?
Stick one on the carton. I bet you won't want it anymore.
Be healthy ya'll.