The ridiculously attractive. The high society of hot. Pure and simple sexy. Some people look so good they have to be recognized. And I think I'm the perfect one to do it. What can I say, I love the sexy.

So what
is
this, you may ask? Mimilainna is on the hunt. Prowling and sifting through the rubble of the interwebs and finding delicious people by state. Let's see just which state has the most gorgeous people. There may be more people from one state than others. Maybe all the good lookin' ones are hard to find and I lookin' in all the wrong places. Contrary to popular belief, I am not all seeing, I'm gonna miss someone. That's where you come in. You wanna rep your state? You wanna see whose got the best of the best? Keep in mind there is more than one type of sexy out there, people. Know a hottie? Nominate them. There's a handy little form right over there *points left to the sidebar* Nominate Your State. You don't want to be the reason Wyoming isn't up here, right?
Didn't think so.
Model Mayhem| Justin Barringer
Day Job?
I've actually been employed at Abercrombie & Fitch since I was 18. It's a very fun job because of the people you get work with, plus it's very easy to transfer to another store in whichever city I'm living in for modeling.

PC or MAC?
TV :) .. haha nah, I'd have to say PC, considering that's what I own. Maybe if I had a MAC I'd like it better, but I have a PC.
Single or Taken?
Single. I'm not against the thought of being taken, but I'm only in one place for a few months at a time, so it really wouldn't be fair to either person if I actually dated someone.
What is your hottest feature?
Eh, good question. I get a lot of compliments on different features and it gets old after awhile, so I would have to say my personality. I'm very laid back and outgoing at the same time, always looking at the brighter side of things and picking with people. My personality seems to compliment all of my physical attributes.

What do you do for fun?
Many things. My sister and I are very close and we usually do a lot of things together. We rent a lot of movies, play video games, draw things, listen to music, and make each other laugh. I used to race motocross before I started modeling and that was so much fun, but since I had to stop doing that I've picked up snowboarding, long boarding, and anything else that briefly get's my adrenalin going haha...
Every man should have_______.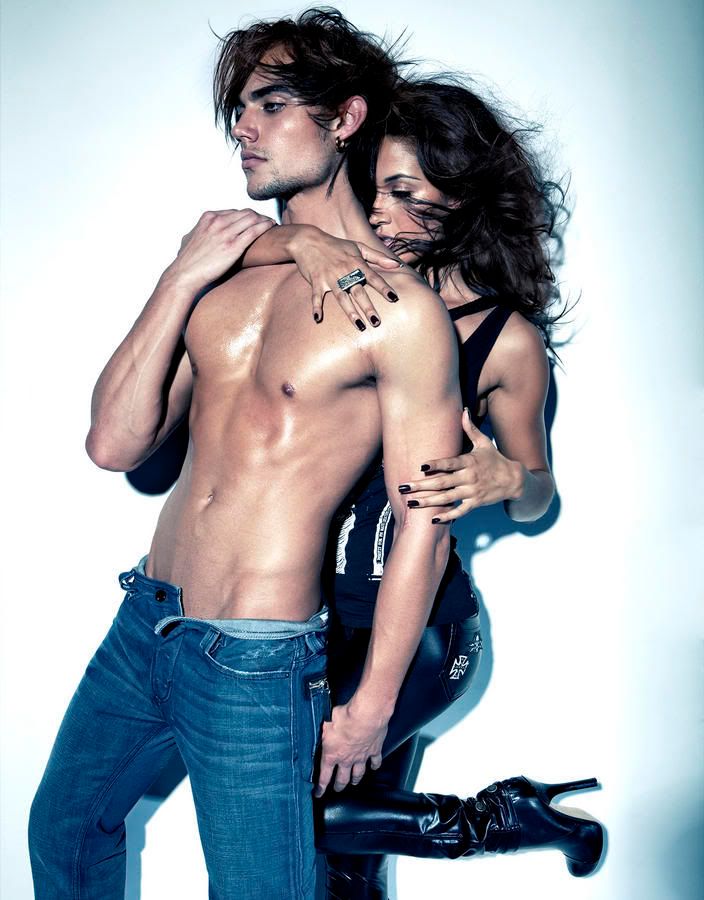 A strong faith, a drive to be successful, and the gumption to pursue the woman he wants.
What is sexy to you?
It's extremely sexy to me when a girl is out somewhere with no makeup on, wearing sweatpants and a t-shirt, and has a look of confidence about her because she knows she's sexy anytime, anywhere, and under any circumstance.
What do you keep in your car trunk?
Space, haha.. I don't usually keep anything in my trunk unless I'm traveling. Everything I keep in my car stays up in front within reaching distance. Those things would be pens, paper, cd's, tag body spray, glasses, condoms, gum, and maybe a blanket. I don't always intend on using the condoms just because they are there, but as they say, "it's better to have a condom and not need it, then need one and not have it". Oh, I also keep a big Crocodile Dundee knife in my car just in case someone tries to mug me lol..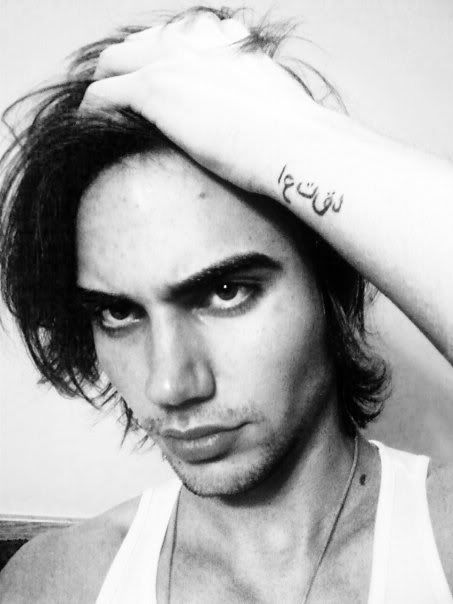 Naughtiest thing you've used the net for?
Hahaha, typing "dirty stories" for certain people. I have this unusual talent for writing what I like to call "passion poetry".
When do you feel your sexiest?
Truthfully, I feel sexiest in the middle of sex. I'm not very promiscuous, and fortunately I can still count the number of girls I've slept with on just one hand. However, I know my body very well, and I'm very good at what I do with it. During sex, you are giving every bit of yourself to the other person, you essentially allow them to become a part of you for however long that amount of time is. A girl trusting herself to me to bring her mentally and physically into ecstasy, this is what makes me feel sexiest.
Any names for your favorite body parts?
Hmm, not really. One of my best friends and I back in high school used to have a "code" word for certain parts. It was "duh duh duh", but you say it really fast. It's very funny when used, "dude, she reached down and touched my duh-duh-duh and my parents were right there!" haha that's one of the ways we used that expression. It also worked when we talked about girls' body parts. Let me make one thing clear, I have a lot of respect for women to whom respect is owed, so I do not use the term "duh-duh-duh" loosely. Hahaha
Lights on or off?
Different people prefer different things. I'd say try one session with lights on, then one session lights off and continue that pattern until a preference is decided haha. But, to be honest, it really doesn't matter whether the lights are on or off if you're fully invested into what you are doing, passion tends to take control..
If
you could do one thing in the world and
have no repercussions, what would it be?
Wow, too many things I would want to do. Haha, I'd probably start with making right all the injustices ever done to my family, then I'd rid the government of all the corrupted politicians and replace them with real everyday people who truly care about our nation and the future generations that will inherit it. Oh, I would definitely hop the rope at one of the red carpet events, go up to Angelina Jolie, and give her a big wet one ;)
Twitter | GrecianBarbie
PC or MAC?
PC.
Single or Taken?
Taken. I'm in a long term relationship with an old white man named Benjamin Franklin. He treats me very well. =)
What is your hottest feature?
The angelic side of me wants to say my eyes. I've gotten compliments on them since I was a baby. Greek people tend to have dark brown eyes, but mine came out a bluish/grey shade for whatever reason. And the devilish side of me would say my gluteus maximus. I've been getting compliments on it since puberty. Greek women are naturally very curvy. It definitely pays to be exotic in 2010. ;-)

What do you do for fun?
I'm pretty boring, actually. I'm from a traditional Greek family and Greek people are very family oriented. If you've ever seen the movie, "My Big Fat Greek Wedding", that's us - big, fat, and Greek. So I'm with them a lot. Outside of my family, when I'm with friends we do the normal things – shop, go out to eat, travel and just be silly. If and when I ever catch a moment to myself I like to study my craft, research new make up products/lines, read beauty magazines, and watch movies. But by far, my most favorite thing to do in the entire world is to EAT. I'm the biggest fat ass you will ever meet. I even coined the phrase "food over everything" on twitter (#FOE). It's really sinful how much I eat. One day I know that I'm going to have to put out an Amber Alert for my waist line. She is BOUND to go missing.
Every girl should have_______.
A beauty routine. It's a proven fact that when you look good, you feel good. A person's entire demeanor and their attitude about themselves and how they feel about their place in the world, can change with a simple tweak or adjustment of their appearance. Because my job requires me to be "dolled up" all of the time, on my days off I don't even wear make up but I do perform a skin care regimen every morning and night, without fail. Every woman deserves to feel good about herself and her appearance. So whether its a manicure, a pedicure, a little lip gloss, some blush, a skin regimen, or a warm bubble bath - every woman should set aside at least 10 minutes a day to do whatever makes her feel beautiful. People treat you how you treat yourself. If look and feel good, you are treated well. Trust me!
What is sexy to you?
A silent confidence. Nothing is more of a turn off to me than a blatantly arrogant and conceited man. It's ok to be funny and joke about it sometimes, I get that but some of these men out here really are convinced that they're pretty AND they even have an attitude about it! I don't care for that trait in men or women, but it's particularly unattractive to me in the male species. I have met men before who are physically gorgeous but the moment that they open their mouth and have to tell me all about how nice they look or whatever they have, then it's a wrap. Looks are not everything. Oh and a sense of humor never hurts. It can make even the most attractively challenged person, cute!
What do you keep in your car trunk?
That is a good question. I'm rarely in my own car. I'm surprised that I even know how to start it. I detest driving, with a passion. I always have. My grandmother came to America from Greece when she was very young and never obtained her driver's license. My grandfather always took her wherever she needed to go. She lived to be 89 and never drove a day in her life. I wish I could be like her in that way. *sighs*
Naughtiest thing you've used the net for?
I don't do ho shit on the internet. There is no privacy online or anywhere for that matter these days. It's actually very scary. I like to keep some things private - my sex life being one of them.
When do you feel your sexiest?
Surprisingly for someone who works in the beauty industry and who was nicknamed "Grecian Barbie" in my teens for always having a thing for fashion and being glammed up, I honestly feel my sexiest late at night after a shower or bubble bath. Preferably around 4 or 5 AM, while everyone else in the world is asleep. Wet hair, no make up, no superfluous clothing, jewelry, etc. - just me. That is truly when I feel the most in tune with myself; therefore that's when I feel the sexiest.
Any names for your favorite body parts?
No. That's kind of corny to me. Although I guess my butt could have its own name. She gets enough attention of her own at times, almost like she has taken on her own identity, separate from the rest of me. LOL …bitch.
Lights on or off?
Off - and not because I am ashamed of my body or anything like that, but bright lights are just
not sexy. I'm sorry. Nobody looks good in loud, fluorescent lighting. I prefer soft lighting, like maybe a lamp somewhere in the room or candles perhaps. It's all about the ambiance. ;-)
If
you could do one thing in the world and
have no repercussions, what would it be?
I think I would treat the entire mall or one of my favorite boutiques as if it were my own, personal closet. Meaning I could just walk into any store in the mall, pick out a dress, some shoes, a bag and some accessories and go to a party or an event and then just return them the next day. I know that some people are bootleg and attempt to do that anyways, but I would be able to cut the tags off and STILL return them, LOL. You'd never have to repeat the same outfit twice in your life. Now THAT would be some real "Barbie Doll" shit.
Love this series?
Check out all of the RAWalty interviewees at the bottom of this page.
Interested in being RAWalty? Submit your info in the sidebar!